Posts for: July, 2013
By Cesar Acosta DMD, Family Dentistry
July 23, 2013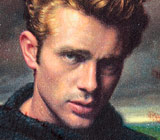 Imagine how different things would have been for movie star James Dean, had he not managed to replace the front teeth he lost as a youngster. According to one biography of the 1950s heartthrob, Dean's teeth were knocked out while he was swinging around on a homemade trapeze. Because his smile was restored, Dean was able to land the plumb movie roles that catapulted him to stardom.
This is perhaps the ultimate example of how a smile makeover can create new opportunities for a person. But opinion polls confirm that nearly 90% of adults feel an attractive smile is an important social and career asset. And, an almost equal percentage of adults feel that their smile could use some improvement.
Are you unhappy with your smile? Is a smile makeover something you've ever thought about? Dear Doctor magazine has come up with a great list of questions you can ask yourself to figure out if you would benefit from this life-changing experience:
Do you avoid smiling in photos?

Are you conscious about spaces and gaps in your teeth?

Are your teeth making you look older than you feel?

Have you held back a smile?

Do you feel that your teeth are stained or too yellow?

Do you hold your hand up in front of your mouth when speaking or laughing?

Do you notice areas of excessive tooth wear that make your smile look older?

Do you have little teeth and a gummy smile?

Are your teeth crooked, chipped or crowded?

Do you wish you had someone else's smile?
If you answered "yes" to any of these questions, please come in and see us. We have an amazing array of cosmetic procedures available to us — far more than what was available to James Dean in the 1950s. These options range from relatively inexpensive teeth whitening treatments to more permanent cosmetic solutions such as porcelain crowns and veneers. Together we can come up with a plan to give you the smile you've always dreamed about.
If you would like more information about what a smile makeover could mean for you, please contact us or schedule an appointment. You can learn more about smile makeovers by reading the Dear Doctor magazine article "Beautiful Smiles by Design." Dear Doctor also has more on "The Impact of a Smile Makeover."
By Cesar Acosta DMD, Family Dentistry
July 08, 2013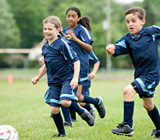 They work hard, and put in lots of time on the field and at home. They learn the rules of the game — as well as the unwritten rules of sportsmanship and teamwork. They receive the proper training, and wear appropriate protective equipment. But sometimes, in spite of everything, kids who participate in sports can be subject to injury. Fortunately, in today's dentistry there are a variety of treatments, as well as preventive measures, which can help.
When faced with serious dental injury, time is of the essence in saving teeth. So, don't delay — come in to see us immediately! If treated promptly, it's possible for teeth which have been dislodged — or even knocked out of the mouth — to be put back in position and stabilized. Afterwards, follow-up treatment will ensure that the tooth has the best chance of recovery.
The treatment of kids' dental injuries is sometimes different than that of adults. For example, in adults, a root canal would generally be necessary, followed by a tooth restoration (crown). But some kids may not need this treatment, since their teeth are still developing. Also, replacing a missing primary (baby) tooth may not be recommended, since it may hinder development of the permanent teeth. Based on his or her individual circumstances, we can develop an appropriate treatment plan for your child.
Luckily, the most common dental injuries aren't nearly as serious — they typically involve chipped or cracked teeth. Most can be repaired by reattaching the broken piece, or using a tooth-colored restoration. If a large part of the structure of a permanent tooth is missing, a crown or "cap" may be placed on the visible part, above the gum line. Smaller chips, even in primary teeth, can be successfully repaired by cosmetic bonding with composite resin materials.
Finally, if your child is involved in athletic activities — or if you are — consider obtaining a custom-made mouthguard. Numerous studies have shown that this protective gear can help prevent many dental injuries. Unlike the off-the-shelf types found in some sporting-goods stores, the ones we provide are individually fabricated from an exact model of the teeth. They're strong, fit comfortably, and offer superior protection at a reasonable cost.
If you have questions about the treatment of sports-related dental injuries, or about mouthguards, please contact us or schedule an appointment for a consultation. You can learn more in the Dear Doctor magazine articles "Trauma & Nerve Damage to Teeth" and "Mouthguards."